Your Trusted Cleaning Company For Airbnb Cleaning Service

Airbnb hosts know that first impressions are everything. You only have one chance to make a good first impression on your Airbnb guests, starting with having a clean and well-kept space. However, cleaning is a challenging task. That's where Trust Cleaning Services- your go-to cleaning company, comes in.
As professionals, we understand the importance of providing guests with a clean and comfortable space. That's why we go above and beyond to ensure your best Airbnb is spotless, so you can focus on being a great host.
We use only the best quality products and equipment to perform the cleaning job efficiently. Therefore, you can rest assured that our cleaners will leave your property spotless. Most importantly, we have and know exactly what it takes to clean an Airbnb property properly.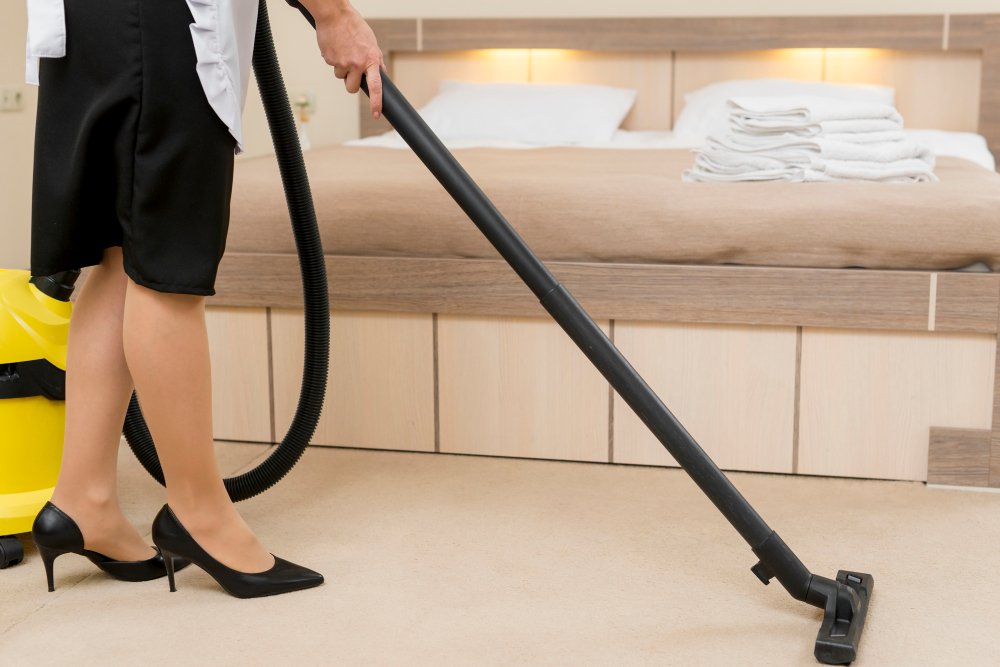 What's Included In Professional Airbnb Cleaning Services?

There are many moving parts when it comes to hosting on Airbnb. From managing guest communication to handling check-in and checkout, it's easy to let the little things fall through the cracks. 
• Complete end-of-stay cleaning
• Change linen and towels if requested
• Wiping down kitchen surfaces, cabinets, and appliances
• Empty trash cans and replace trash bags with new ones
• Vacuuming carpets and mopping hard floors
• Cleaning bathroom fixtures, sinks, and toilet
• Dusting furniture and other surfaces
• Sanitization for extra protection against germs and bacteria
• Cleaning windows and doors
One of the most important aspects of being a successful Airbnb host is keeping your space clean and welcoming for every guest. That's where professional Airbnb cleaning services come in! 
A professional Airbnb cleaning service generally includes the following:

A thorough cleaning of all surfaces, including countertops, floors, appliances, cabinets, and windows. This may also include mopping, vacuuming, and dusting.

Cleaning of all bathrooms, including toilets, showers, bathtubs, sinks, and mirrors.

A thorough tidying up of the entire rental, including making beds, arranging cushions and pillows, and straightening any common areas.

As you can see, a lot goes into professional Airbnb cleaning services! By outsourcing your cleaning to a professional service, you can rest assured that your rental will be sparkling clean for every guest. 
Are You Looking For A Reliable Airbnb Cleaning Service Provider?

Let Trust Cleaning Services Help You
Keeping Airbnb property tidy can be a daunting task. But it doesn't have to be if you have professional cleaners to take care of the cleaning job. Trust Cleaning Services is a reliable and professional cleaning service provider that you can count on.
We're here to help you keep your Airbnb clean and comfortable for everyone. Our professional cleaners will thoroughly clean your entire space from top to bottom, paying particular attention to high-traffic areas and common problem areas like kitchens and bathrooms.
We will dust, vacuum, and mop all floors, clean windows, empty all trash cans, and do any other requested cleaning tasks. No detail will be overlooked! We are second to none when it comes to cleaning services!
Get Stress-free Airbnb Cleaning Services in Bradford, Leeds, & Wakefield
If you're a busy Airbnb host in Bradford, Leeds, or Wakefield, you know how hard it is to keep up with the hosting demands. Cleaning your property between guests can be a time-consuming and expensive task. But what if there was an easier way?
Our best rated Airbnb cleaning service takes the stress out of keeping your tenant clean. We offer top-tier cleaning services using the best products and equipment to ensure your home always looks its best. Our team of experienced cleaners is trained to provide the highest standards of service and efficiency, so you can be sure that your guests will be impressed with the results.
How Our Holiday Rental Cleaning Service Works
Our Airbnb cleaning service is designed to make your life as a host easier. Here's how it works: Step 1: Book an Airbnb cleaning service
You can choose from our range of packages and book a service at a convenient time.
Step 1: Our cleaners arrive
Our experienced and friendly cleaners will arrive at your property on time, ready to work.
Step 2: We carry out the cleaning tasks
We'll use the best products and equipment to deliver results that meet your highest standards. Our team will clean all areas of your property, including bedrooms, bathrooms, hallways, and kitchens.
Step 3: Perform in-depth cleaning
We also offer deep cleaning services, including carpet and upholstery cleaning, oven and refrigerator cleaning, and window washing.
Step 4: Guarantee complete satisfaction
We guarantee that you'll be completely satisfied with the results. Our team will double-check all areas of the property to ensure it's ready for guests.
Frequently Asked Questions
How much should the Airbnb cleaning fees be?
The price for 3 Hours of Airbnb cleaning is £60. Whereas the cost of all our packages is competitive and varies depending on the size of the property and the type of service you require. For a quote, please contact us directly.
How long does it take to clean an Airbnb?
Our team can usually clean a standard-sized property within 3-4 hours or less. The time depends on the size and complexity of the cleaning service an Airbnb requires. 
Why book an Airbnb cleaner through Trust Cleaning Service?
Trust Cleaning Service offers flexible and reliable cleaning services tailored to your needs. We use the best products and equipment, so you can be sure that your guests will be impressed with the results. Our experienced team is dedicated to providing top-tier service and efficiency using the best commercial cleaning materials, vacuum cleaners, etc. Plus, we guarantee complete satisfaction with our work. So if you're looking for a stress-free Airbnb cleaning service in Bradford, Leeds, or Wakefield, Trust Cleaning Service is a perfect choice.
Does the Airbnb cleaning fee include dishes?
The cleaning fee does not include dishes. We offer a deep-cleaning package that includes dishwashing, oven and refrigerator cleaning, window washing, and more. Please contact us for additional details. 
What does an Airbnb cleaning service include?
Our Airbnb cleaning service includes vacuuming, dusting, polishing surfaces, and sanitizing bathrooms. We also provide deep-cleaning services, including carpet and upholstery cleaning, oven and refrigerator cleaning, and window washing. At Trust Cleaning, we employ both modern and local cleaning methods to ensure you get quality service every time. Therefore, you can ensure to meet your cleaning needs all the time. Please contact us for more information.